SEXUAL ABUSE CRISIS IN THE CATHOLIC CHURCHThe following articles provide numerous links to articles that address the
sexual abuse crisis in the Catholic Church.

Latest work in progress:

CATHOLIC CLERICAL SEX ABUSE: THE REAL CAUSE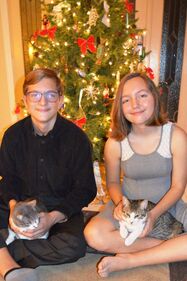 FAMILY UPDATE​
​ ​ Sasha and Luke are in the 10th grade at Coronado High School. While the classes are currently being conducted online, we are hoping that they will soon be able to return to their classrooms. In addition to excelling academically in their regular high school courses, they also enjoy their participation in the Coronado School of the Arts (COSA). During the COVID-19 pandemic quarantine they have learned some new skills (cutting hair, sewing, playing the guitar, cooking, and baking).
As for myself, I've been busy helping priests and ex-seminarians who were unjustly treated by Catholic Church officials for their opposition to clerical abuse. I'm also still looking for a producer that will fund the production of my screenplay, Abuse, that deals with a Catholic military chaplain struggling with celibacy who works with an attractive Jewish lawyer to help a veteran sexually traumatized in his youth bring suit against a Catholic archbishop with papal ambitions.
---